Physical Exercise Benefits:
What's the deal?
Physical exercise benefits don't just happen...
ADAPTATION plays a great deal in the process.
Adaptation is the stage between the unfit state and the fit state. Now, if you're like me, you certainly don't like the pain and exhaustion from exercise. It normally doesn't make me feel better and sometimes it's making me feel worse.
Very few programs are designed to assure success for people who are just beginning an exercise routine.
Most people aren't told about the four to six week adaptation period it takes for their bodies to adjust to the new exercise routines.
From these 12 Benefits to Exercise:
Which Most Apply to You?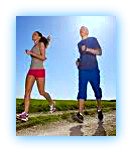 The Physical Exercise Benefits awaiting you:
1. BURNS CALORIES
2. USES FAT AS FUEL
3. INCREASES MUSCLE MASS
4. DECREASES APPETITE
5. HELPS REDUCE STRESS AND DEPRESSION, (common causes of overeatin)
6. REDUCES THE RISK OF HEART DISEASE, (America's number one kille)
7. HELPS CONTROL DIABETES
8. PROMOTES DEEPER, MORE RESTFUL SLEEP
9. RHYTHMIC EXERCISE RELIEVES CONSTIPATION
10. STIMULATES THE LYMPHATIC SYSTEM
11. RANGE-OF-MOTION EXERCISE IMPROVES FLEXIBILITY AND STRENGTH (Ex.: Yoga and stretching)
12. LEADS TO FEELINGS OF STRENGTH AND IMPROVED SELF-ESTEEM
Remember that CONSISTENCY is more important than INTENSITY.
Therefore, when you do consistent, moderate exercise, the message to your brain is this: "This body is now an active, dynamic body that requires a great deal more energy than before, so I need to stop storing so many calories as fat and keep more in ready reserve for all this activity." The good news is that to make this message loud and clear, the exercise doesn't have to be intense or even long.
The most important thing is consistency.