Jillian Michaels
Jillian Michaels isn't done building her astounding empire!
Along with the Biggest Loser, she was the executive producer and star of an NBC series in summer 2010: "Losing It with Jillian" 2011 was when The Oprah Winfrey Show goes off the air and that's exactly when Jillian Michaels came in... "It's been waiting for that moment" she said, "And now that moment is happening".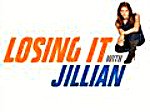 The Emmy Winning Producers of THE OFFICE and THE BIGGEST LOSER and the former Executive Producer of OPRAH is well on her mission to mend the bodies, minds and hearts of people in pain.
America's top health and wellness experts moved in, kicked butts and changed lives!
She taught families how to exercise, eat right, and be healthy in EVERY aspect of their lives.
Losing It With Jillian, an eight-episode series, featured Jillian travelling in the USA, living with families for a whole week and thoroughly examining the fitness and nutritional choices they've made.
In each episode, the merciless personal trainer on NBC,s moved into the family's home and overhaul their lives with a full lifestyle makeover. Her mission: Root out every aspect of the household's dysfunction.
She was there to help whole families get rid of their excess weight. She taught them to correct the terrible eating habits that made them gain weight in the first place, then replace these habits with new constructive ways to live a better healthy life, body mind and spirit.
Personally, I watched the show every week and couldn't wait for the next episode to observe the wonderful transformation of the families she trained. It was absolutely astonishing. Did you get a chance to watch it on NBC? I hope you did. The episodes are now over but Jillian's mission is not over: She's a coach you may like to train with, at a distance, in your own home, to attain your objectives.
"If you feel helpless, frustrated, powerless or disappointed, it's time to step up and take your life back!" she says.
If it feels as if you're fighting your body to lose even one pound — or just to maintain your current weight? Bestselling author Jillian Michaels has been there, too. She consulted top experts in the field of metabolism and discovered that she'd inadvertently been abusing her endocrine system for years. After "fixing" her own metabolism, she decided to share what she learned by devising this simple, 3-phase plan that engages all the weight-loss hormones - including the friendly HGH, testosterone, DHEA; and the not-so-friendly: insulin, cortisol, and excess estrogen -
In Master Your Metabolism you'll discover how to:
1- REMOVE "anti-nutrients" from your diet
2- RESTORE foods that speak directly to fat-burning genes
3- RE-BALANCE energy and your hormones for effortless weight loss

Jillian goes through every detail: shopping lists and online shopping resources, hormone-trigger food charts, how to eat "power nutrient" foods on a budget, smart strategies for eating out, quick and easy recipes, as well as mini-programs for addressing PMS, andropause, metabolic syndrome, (PCOS) Poly-cystic ovary syndrome which is one of the most common female endocrine disorders, and menopause.





MASTER YOUR METABOLISM is the title of great book which you can order from AMAZON:



Sign up for a FREE newsletter letter from Jillian Michaels: click here:


Meet Your Online Coach: TV's toughest fitness guru's NEW workout to drop that weight!
Jillian's ultimate objective is to help people live well and achieve their personal growth. Here's a page written on that specific aspect of her: Jillian Michaels and Personal Growth.

---
---
From this "Jillian-Michaels" page, back to the "Fitness Training Tips by Jillian Michaels" page.
Home Page  |  Contact Page  |  Solo Build It!  |  Site Map  |  About Us  |