The Biggest Loser on NBC


Do You Know about This Compelling Weight-Loss Reality Show
on NBC Network?

 THE BIGGEST LOSER...
Every season brought new contestants and new challenges
that were absolutely thrilling to follow.
 The Biggest Loser's Last episode was 22 février 2016

Who's the Big Winner? See Who won this year's finale.
Watch Full Episodes Online: Did you miss an episode? Don't worry, you can watch a whole bunch right here, right now!
The Biggest Loser Club Corner: Check out articles, tips and recipes, all courtesy of the Club. Become a member now!
And remember that you don't have to be on the show to LOSE WEIGHT and CHANGE YOUR LIFE! The Biggest Loser Club gives you the tools, knowledge and power to eat healthier, feel stronger and change your life for the better. The rest is up to you.


So what are you waiting for? Get access to our community of amazing members the meal plan and fitness tools of The Biggest Loser Club program.

Would you like?

NEW WORKOUT TO DROP OFF THAT WEIGHT,

PROFESSIONAL FITNESS ROUTINE,

ONLINE FITNESS PROGRAM,

EXERCISE AND DIETING:BURN FAT FAST,

FAT-BLASTING CARDIO.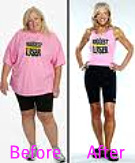 Jillian Michaels won't be a trainer for the second time this season, BUT... she released a new book titled: "Unlimited" which aims to help you reach ALL your life goals.

Bob Harper is still there though to provide step-by-step support, customized weight loss plan to sweat the pounds off with exercises, food advice, recipes, tools, and motivation!
The Biggest Loser Team also have a very qualified medical staff to support the whole process. Each participant experiences a life-transforming adventure at the ranch... no doubt about that!
What's Your Weight Story?
Do you have a great story about your weight issue? Share it!
---
From this "Biggest Loser on NBC" page back to Weight Conversion with Body Mass Index" page
---